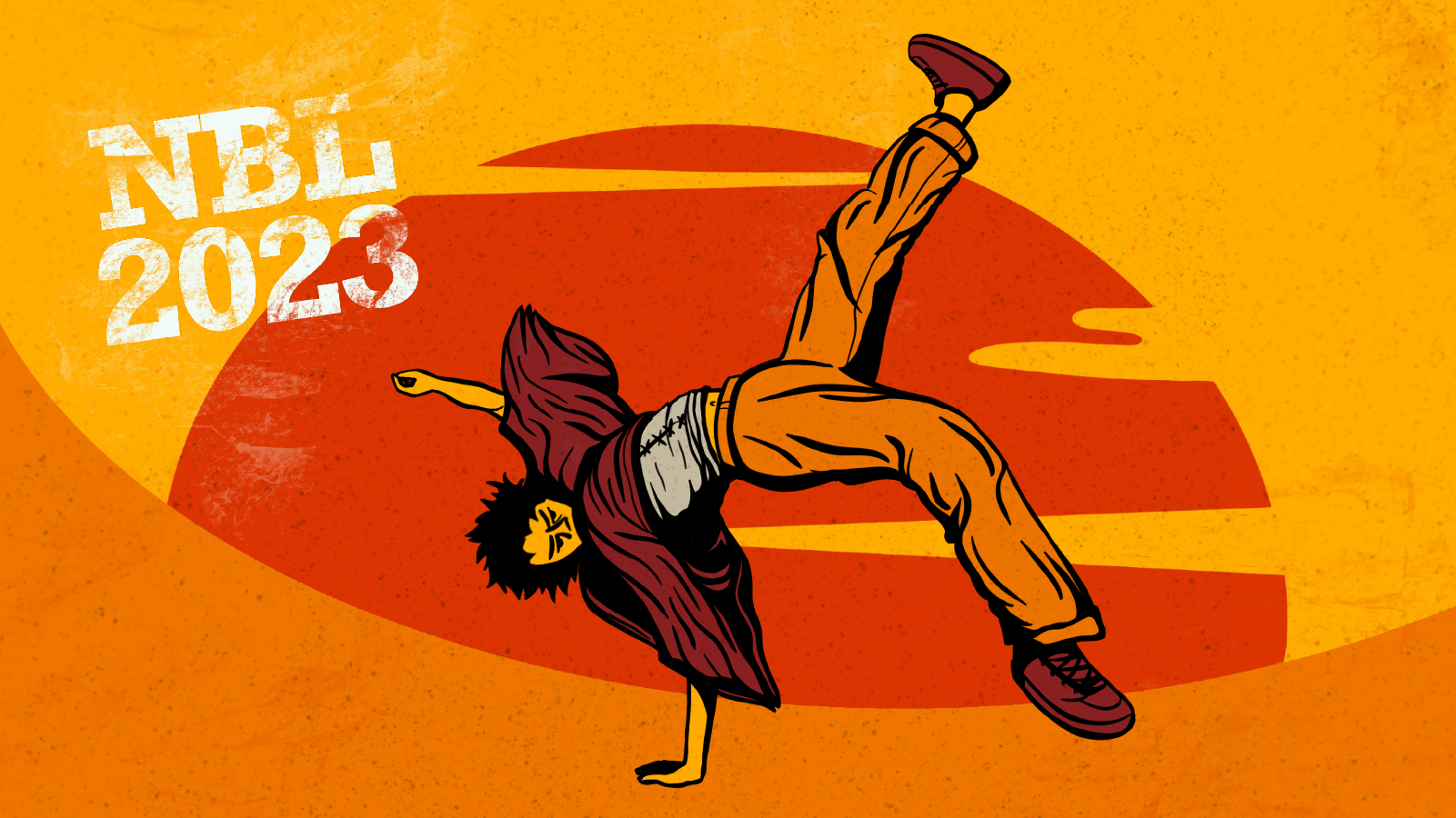 Dit evenement is voorbij.
De Breaking Kampioenschappen 2023!
We zijn weer terug in Den Bosch met het NBL master Event! Het wordt een dag met veel battles, workshops, graffiti en een Street Market.
Programma:
– Workshops
– Street Market
– The Floor Is Yours
– Challenger League
– Regional League
---
Tickets: €12,50 online* / €15 aan de deur
Familie ticket: €45 – voor 2 volwassenen en 2 kinderen
Tickets kopen: https://eventix.shop/zdnumx2e
*Online tickets beschikbaar tot 17 november 23.00u
Voor begeleiders van deelnemers The Floor is Yours en City vs City:
Iedere extra begeleider: €2,50 aan de deur
Inschrijven voor de battles: https://and8.dance/nl/e/4561/register
---
Timetable
Street market 11.00-17.00 
Cypher Area
10:00 Deuren open
11:00 t/m 12 jaar Beginners
12:30 Crewbattle Beginners
14:00 Graffiti workshop van Kings of Colors
16:00 The Floor Is Yours
16:00 Graffiti workshop van Kings of Colors
17:30 Afsluiten
Main Area
10:30 Deuren open
11:00 13+ jaar Beginners
12:30 Start t/m 15 Advanced
14:00 Start BBoys 16+ jaar
15:00 Start Bgirls
16:00 Crewbattle
17:00 Hoofdprogramma: Finales
Top 4 BBoy
Top 4 BGirl
Top 4 Crewbattle
Finale Floor is Yours
Finale 15A
Finale BGirl
Finale BBoy
Finale Crewbattle
Prizes & Prize money
Trophies
Unieke, handgemaakte trophies in het jaarlijkse thema voor de winnaars & runners up van de Regional & Challenger battles.
Regionals t/m 12 B en 13 + B
Workshop + Fotoshoot
t/m 15 jaar A
Krijgt als prijs een buitenlandse battle ervaring naar keuze vergoed. De keuze is uit: Battle Pro, UK Champs, Outbreak & Catch tha Flava.
Bboy 1on1
Winnaar bboy € 500,00
2nd place € 200,00
Top 4 € 100,00
Top 8 € 50,00
Bgirl 1on1
Winnaar bgirl € 500,00
2nd place € 200,00
Top 4 € 100,00
Crew
Winnaar crew € 800,00
2nd place € 400,00
Top 4 € 200,00
Line-up
B Categorie
DJ: Vinci
Host: Jango Unchained
Jury t/m 12: Aram, Len & Zoë
Jury 13+ & City vs City: Castillo, Popski & Thalisa
A categorie
DJ's: L Locke & Cutnice
Hosts: Arjuna & Machete
Jury: Menno, Duzk, Vanessa, Mess & Carlos